Pro Machined & Built, Hit and Miss Scale Model Gas Engine, Motor Odds n Ends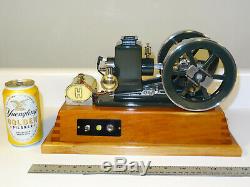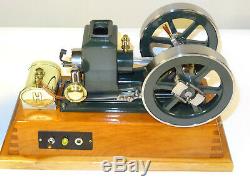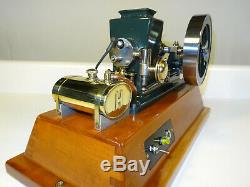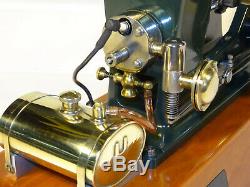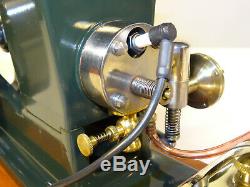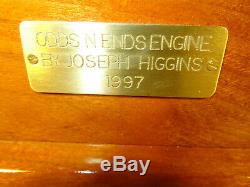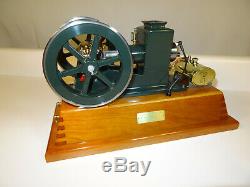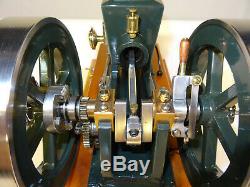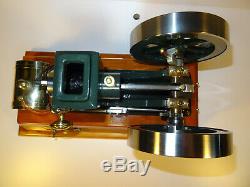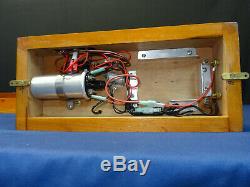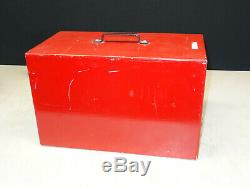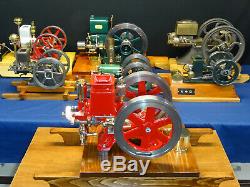 Highly detailed and great running! I have info in my ad on how to see the video I made of it running. This engine was built in 1997 by professional engine builder Joseph Higgins.
This was not a kit, it was built by plans from Philip Duclos for his Odds N Ends engine with some changes made to those plans. (Last photo posted) These engines are NOT INCLUDED in this sale. I still need to do some work on the reproduction Lukeheimer fuel mixer on the Olds to get it running smoothly.
Video of this engine running: I have a video posted on YouTube of me going over some details and running the engine that is listed here for sale. Hit and Miss Scratch Built Model Engine Odds n Ends. The Flywheel is 5 inches in diameter. Mounted on the wooden stand the total height is 7 1/2 inches and it weighs about 25lbs. The wooden display stand measures 14 ½ x 7 inches.
Engine piston bore and stroke is approximately 1 x 1 ½ inches. Ignition: The spark for this engine is provided by a automotive type coil and points.
The ignition points are mounted on the inside of the one flywheel. They can be moved by a small wooden handle and that will adjust the timing if needed. It is designed to use a 6 volt battery (not included). A photo is posted of the area under the engine. There is a mounting area for a small 6 volt jell cell type battery. Next to the ignition switch and power light is a charging jack. (charger not included) That is so you can charge a battery that can be mounted under the engine making this a self contained unit. I used the battery terminals that are mounted on the back of the engine stand.
I just want to be clear that a 6 volt battery and charger is not included in this sale. Fuel system: The brass gas tank is held on the wooden platform with magnets.
This allows the easy removal of the tank to drain out any fuel that has not been used. The canned gas does not contain any harmful methanol that can be corrosive to some metal parts. There are also preservatives added to that fuel for long term storage. You can also use Coleman cam fuel or Naptha. Adjustment of the timing and the fuel mixer will be needed for different fuels. Keep in mind that most all pump gas contains at least 10% methanol along with a ton of chemicals that leaves a white crusty buildup (methanol is corrosive to some metal parts, especially aluminum) on everything it is in contact with should it be left in the tank and carb to evaporate over time. Even if canned gas is used you should drain out the gas tank and run the last of the fuel out of the fuel mixer. The carburetor / fuel-mixer: As I show in the video, the fuel mixer on this engine works like it should.
Only a slight adjustment was needed to make it run like it should. Lubrication: There is a grease cup on the big end of the connecting rod.
Every couple times you run this engine unscrew the cap and push in some bearing grease with your finger. You should see a slight amount of grease squeeze out of the rod bearing area that can be wiped off. Squirt some oil up into the bottom of the piston where the wrist pin is located.
Fill the 2 oil cups on the crankshaft bearing caps. Also unscrew the needle valve for the cylinder drip oilier and drip a couple of small drops of oil down that hole and replace the needle valve. Have the piston at the bottom of the stroke when doing this so the oil drips down around the piston skirt. Water tank: Fill the water hopper with water.
There is no drain valve for this tank so you will need to turn the engine upside down to drain out the water when you are finished running it. At that point you can remove the fuel tank that is held on with magnets and empty that out. Take off the tank before turning the engine upside down.
Since it was in the low 20's outside and it was dark out, I started this engine in my basement workshop using a powerful venting system I use for soldering and for testing small engines. Its best to tell you. DO NOT RUN THIS ENGINE IN A ENCLOSED AREA AS EXHAUST FUMES CAN CAUSE ASPHYXIATION AND POSSIBLE DEATH.
I had a sanding drum attachment on with out the sanding sleeve on. If you do not have the strength in your hands to flip the flywheel, using a Dremel for a starter works great. The rotation direction of the flywheels is that the top spins towards the back of the engine. In other words if you have the engine sitting in front of you with the gas tank to your left and the back of the engine to your right, the flywheels turn clockwise. NOTE: Like the real full size hit and miss engines, these engines were not designed to run at a high RPM.
Running this engine too fast could cause severe damage to the engine and possibly to anyone standing near it. Whats included in the sale: You get the engine as shown mounted on the wooden display stand, and as shown in one of my photos there is a red cover that clips on to the lower part of the engine stand. I wont be packing this engine till it sells so I can enjoy looking at it a little while longer and have it available for any needed photos or measurements.
I make no guarantee on how this will run for you. You should have some mechanical experience with small engines to get this to run properly. This is a running handmade gasoline powered scale model engine that comes with no instructions or guarantees what so ever!!
Do not stick your finger or other body parts like hair or clothing in a rotating / moving mechanical assembly!! The new owner assumes all responsibilities and liabilities to himself/herself and others with this engine. This is an adult collectible item not to be operated near or played with by children. I make no clams to it being safe as it is a antique scale model reproduction of a engine that was produced back in the day when no safety guards, air bags, safety warning labels, ect..
Were attached to dangerous products. I make no claims as to how it will run for you as adjustments most likely will need to be made like fuel mixture and or governor settings. By purchasing this item you are stating that you have read my whole ad, you understand it and that you agree with the terms and policy's stated in this ad.
You understand that this is a hand built reproduction of a antique engine that was manufactured back in the day before any built in safety precautions were added to mechanical devices. If you have any questions, please ask before purchasing or making a offer on this engine. I have detailed photos posted. I have a video posted and describe everything to the best of my ability.
I encourage asking questions should you have any and I will be more than glad to help. Should you have any questions, please ask.
The item "Pro Machined & Built, Hit and Miss Scale Model Gas Engine, Motor Odds n Ends" is in sale since Wednesday, February 27, 2019. This item is in the category "Business & Industrial\Light Equipment & Tools\Stationary Engines\Engines".
The seller is "bushvideo" and is located in Reading, Pennsylvania. This item can be shipped to United States. Higgens
Model: Odds N Ends
Type: Hit & Miss
Powered By: Gas
MPN: Does Not Apply
Country/Region of Manufacture: United States