Model Gas Engine Castings Plans Kit old antique hit miss steam hot air motor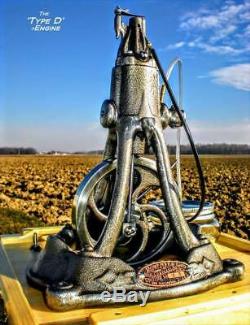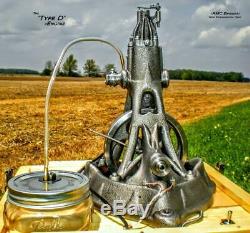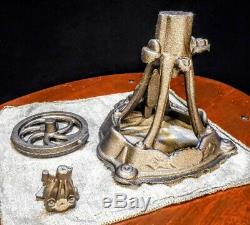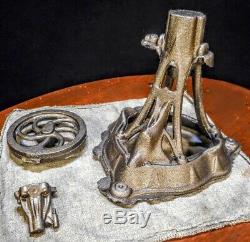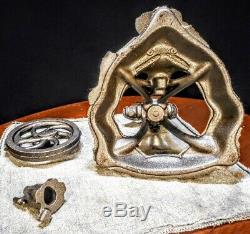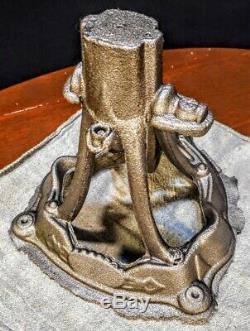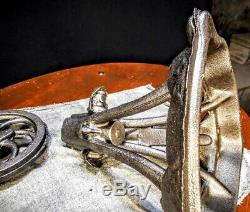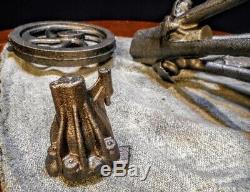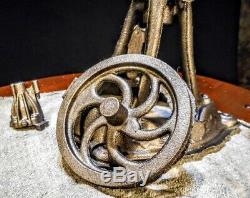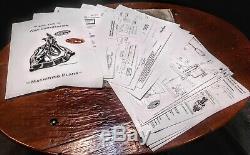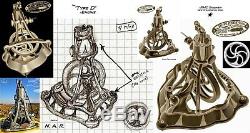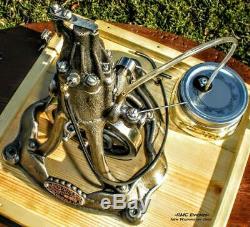 Note that a small lathe & mill are required to machine this engine. The Type D is neatly styled vertical engine with a 1-piece cylinder & base casting & it was designed to look & be built like something that could have been made years ago. It uses an over-hung flywheel crankshaft that sits inside the four tapering legs of the engine base. This engine uses high tension spark ignition & runs off regular gasoline by using a simple RMC vapor carburetor. The engine can also be easily set up for other gas or liquid fuels.
For a gas engine, it goes together fairly easy & is a neat engine to run. =Engine Dimensions: 3/4" Bore, 4-3/4" diameter flywheel. The finished engine will stand about 10-1/2 tall & will weigh about 9 lbs. The base casting itself stands 8 tall without the head. The bottom of the base is about 8 wide.
3 Grey-Iron Castings, (engine base, flywheel & head castings). Detailed Nameplate with Stamped Serial #. Full, computer drawn machining plans with machining notes. A computer CD full of pictures of finished engines, machining set-ups, jigs, etc. There is also an engine manual/owners manual on the CD that can be printed out.
This contains notes about adjusting the engine & running it. Ews, nuts & other small hardware & small stock pieces for this engine do not amount to much & is not included. There is a parts list with the plans. You will need to have an ignition coil (preferably a buzz coil type or one made for a model engine) & a battery to run the engine.
A video of a finished engine running on YouTube can be seen below; the finished engine is not for sale. The RMC "Type D" Non-Compression Engine - YouTube. =Compared to other gas engine kits, this kit is fairly simple to machine since the engine doesnt have any gears, cams, push rods, valves, etc. Care should still be taken to machine the few parts this engine does have and a small lathe & mill & standard tools will be needed to machine the castings & make parts for this engine. The base & head were sand cast without a follow board using RMCs own handmade core-less patterns.
Because the base casting on the Type D engine is so unique, it has a longer parting line than normal. Also like any casting, foundry finish quality can vary & depending on the foundry finish, it may take time to detail the castings as wanted. The castings are made from high-grade ductile iron & do clean up easily with an air die grinder, carbide burr & files.
Note that the base casting has mounting bosses placed conveniently on it, making it ideal for free-lance engine builders to make an engine out of. The item "Model Gas Engine Castings Plans Kit old antique hit miss steam hot air motor" is in sale since Saturday, February 1, 2020. This item is in the category "Toys & Hobbies\Models & Kits\Tools, Supplies & Engines". The seller is "nrowland" and is located in New Washington, Ohio. This item can be shipped worldwide.
Country/Region of Manufacture: United States
Features: Kit