Kawasaki Mule KA KAF Engine Motor 620 Gas Fits all Models Between 2500 4010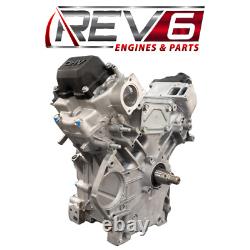 At Rev 6 Powersports we know engines. We have years of professional experience on stock and performance engine rebuilds. Work with the best when it comes to your engine. Rev 6 Power Sports Better Than New Guarantee. We guarantee your rebuilt engine will be as good as, if not better than your original engine.
We guarantee your engine will be as good as new. We stand behind our engines with a 1-yr.
Your complete engine rebuild includes the following. Cases will be completely cleaned and sandblasted to like new condition. Double inspection guarantee; your engine will be assembled by one master technician and inspected by another master technician to ensure your engine is better than new. Many of these engines will throw a rod or spin a bearing without any notice whatsoever. A journal that is too tight will preload the bearing, which will increase internal friction and temperature and lead to premature bearing failure. Ere at Rev6, we do not take any chances.
Typically Polaris will have codes on the engine cases and crankshaft that will directly correlate with a color bearing that Polaris recommends using. Sometimes those tolerances will be too tight or loose, causing premature bearing failure.
Rev6 addresses these bearing issues with plastigage to find the correct bearing tolerances to ensure there are no premature failures on your new engine. Specially on aftermarket engines running Carrillo rods that require a plastigage for optimal fitment. Why do we only use nikasil Coating on all of our cylinders? Nikasil-silicon-carbide is one of the most effective and toughest setups you can offer. Nikasil cylinders offer tighter piston to cylinder wall tolerances for better performance, better heat dissipation, and are stronger than your standard cast iron bore. We typically see these engines failing because of excessive play in the steel valve guides that Polaris offers. This causes the user to notice oil loss, or run out of oil without them knowing. These Pro star motors will often show no sign of burning oil until it is too late. If you notice a loss of oil and no external leaks, we would recommend getting your engine checked out. We address these issues by using our upgraded valve guides. Why do we use bronze valve guides?
The C63000 Bronze nickel guides provide superior resistance to wear, out standing heat conductivity, maintain critical thickness in high temperature areas. Bronze valve guides promote high performance and endurance on race engines and your standard builds for more reliability and longevity.
One of the most common issues we find with these machines is a dusted engine. Engines with improper or faulty air intake systems can ingest dust. Dust will act like sandpaper and wear all internal components.
This will cause power loss, excessive oil consumption, among other things. We have partnered with some of the best companies in the business and use only the highest quality parts to rebuild your engine.
No cheap bearings, rods, or pistons. No cheap engine assembly by inexperienced shops.
All our crankshafts are custom built by some of the #1 crankshaft rebuilders in the world. Every crankshaft is built with perfection. Cranks come indexed, trued and better than factory specs. All cranks are indexed within a 10th of a degree... Very few shops are capable of that precision!
We have access to hundreds of newly re-plated cylinders from single cylinders to mono block twin cylinders that are done by Millenium Technologies, one of the most respected nickel-plating companies in the world. For steel sleeve applications, we offer in house cylinder boring with perfect piston to cylinder wall clearances and perfect hone pattern for optimal performance. Once engines are received they are fully dissembled, cleaned, and fully inspected.
We inspect everything, crankshaft bearings, rods, true, and index. Engine cases are fully inspected for damage cracks or excessive wear in bearing journals. Cylinders are checked for pitting, scarring, and cylinder wear to see if it's out of round or tapering.
We do not charge for disassembly or diagnosing your motor. We'd love to talk to you.
Give us a call/message and we can answer any questions you have. No question is too big or too small. Sending in your core first thing will waive the core charge. Your engine will be scheduled for work in the order that it was received. These photos will be emailed to the customer for their records and to verify any damage.
REV6 Engines & Parts Springville, Utah 84663.