1/2 Scale Breisch Olds gas powered model Hit and Miss engine motor, Show Quality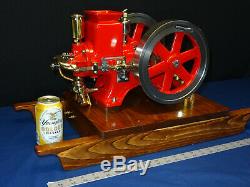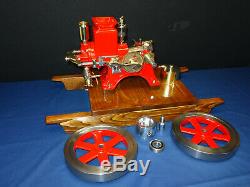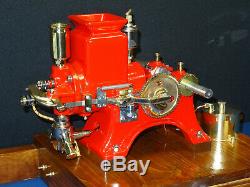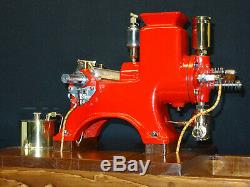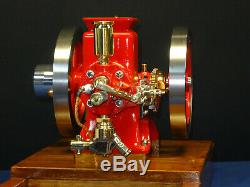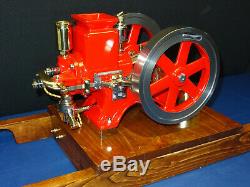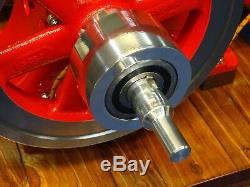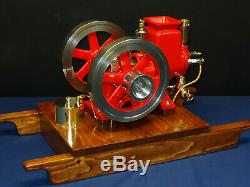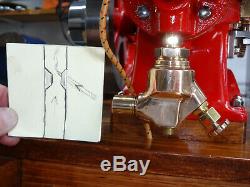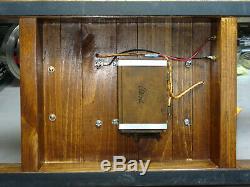 I have a 20 minute video Posted on YouTube describing everything and showing it running. The block has been smoothed and the B that is on both sides of the water hopper has been filled over. Just starting off with that to avoid the messages saying that this is not built from Breisch castings. The engine features a 1 7/8 bore x 2 stroke w/8 1/4 dia.
There is a functioning hand crank, flip out starter handle in the one flywheel. The wooden base measures 24 x 12 ½ inches. Many hours of machine work and assembly goes into producing a high quality scale model like this.
A lathe, milling machine and experienced operator was needed to finish the rough castings and to fabricate the additional parts required. Having to pay someone for all of the machine work and fabrication involved would cost quite a bit.
I put about 4 months of working most every day into restoring this engine. I have a 20 minuet video posted on YouTube where I go into detail about this engine along with showing how well it runs. The video is titled ½ Scale Show Quality Breisch Olds model Hit and Miss engine. My user name on that site is JoeKind1958. That's just a user name, not my real name.
I think that the challenge in getting a scale engine like this to run and sound like the real thing is to run it slow and have it fire on just one intake stroke after the governor kicks out as I have accomplished here. In looking at many videos of scale engines on YouTube, I see that many of scale engines are running way to fast and they need to go through several intake strokes till they finally draw in enough fuel/air to fire just once. It takes patience and experience to get them to run the way I show this one running in the video. I have restored several of these ½ scale Olds engines over the years and have run into one common problem with all of them.
That is the scale Lunkenheimer fuel mixer. They are designed to work and look like the full scale fuel/air mixers. They have a valve inside that covers the fuel outlet/jet. On the intake stroke the spring loaded valve is sucked open and fuel is drawn out of the jet.
I have yet to own one of these that did not draw out the fuel semi correctly without the use of a choke to restrict the incoming air. The choke usually needs to be closed about ½ to ¾ of the way to get the engine to run. Even then the fuel mixture screw becomes very sensitive in its adjustment with only a very slight turn needed to go between the engine running rich and lean. Without writing a book on this problem I will sum it up by giving my opinion that the air inlet, the internal valve and air outlet of this scale mixer is simply too big for the amount of air that flows through it.
This is why it does not work without restricting the incoming air with a choke. So rather than having air flowing at a decent speed past the fuel jet that gives a nice misting/atomizing of the fuel for a more complete burning of the fuel, you end up restricting the incoming air with a choke to draw out the fuel that does not make for a nice misting spray of fuel.
After first firing up this engine after the restoration it was back to the same old, same old need to use the choke to get this engine to run. Enough is enough so I redesigned the mixer. Reduce the size of the inlet and outlet and put a venturi about ¾ of the way into where the fuel mists out.
The incoming air speeds up when going through the venturi area and that is where the fuel mixes with the air. In one of my posted photos I have a crude drawing of the shape of the inside of the mixer now looks like. As I suspected, this carburetor like airflow design works perfectly. It draws out the fuel so well that I did not need to choke it to pull the fuel into it this modified mixer. Adjusting the mixture screw between rich and lean is not as sensitive (the best descriptive word I could think of) as it was with the original design. In that case about 1/8 of a turn made the difference between overly rich and so lean it would shut off. Balancing that sensitive adjustment with getting the choke set just right was how it once was.
That is no longer the case now. Needless to say that any engines I get in from now on that have one of these Lunkenheimer style mixers on them will be modified. PLEASE NOTE that some of the posted photos were taken of this engine before I modified the mixer.
The only visual difference now is the lack of the choke in what once was the air intake. The air inlet is now on the bottom of the mixer where the spring once was for the internal valve that is no longer there. So this engine still retains the same looks as it had before the mixer modification, just minus the choke. I was out of camp fuel so I set this engine up using the canned gas as I show in the video.
Pump gas contains Ethanol that can be corrosive to certain metal parts. It also has a nasty habit of leaving a white crusty or green sticky residue (depends on the brand of gas, I have cleaned out a lot of small engine carbs over the years) when left to sit and evaporate out of a gas tank or carburetor. Not something you would want to use to fill up your riding mower.
But for a small engine like this its well worth the price. It will last you a long time. It contains no Methanol and has stabilizers in it for a long shelf life. As I show in the video I add a small amount of castor oil to the canned gas when I fill up the tank on the engine stand. Just a drop or two goes a long way. The ignition points were originally located on the pushrod side of the engine. There really is no way to give one of these Olds engines a clean detailed look with a set of ignition points hanging below the pushrod so I made a mount and run them off the crankshaft inside of the flywheel where they are out of site. The points trigger a antique Ford buzz-coil that is mounted under the engine stand.
I updated the antique coil by removing the original capacitor and replacing it with a modern one. It now puts of a real nice spark. You will need a 6 volt battery to power the buzz-coil. The battery shown in the video is not included.
There is room under the engine stand to mount a 6volt small jell cell type battery. Then add a off and on switch and you have a self contained running engine. NOTE: This is a running reproduction of a antique engine. It is an adult collectible item and is intended to be used by a experienced adult. Just like the original engine, it has no safety guards /covers mounted to it.
Loose clothing, long hair or fingers could become cough in any moving part when this engine is running or even being turned over by hand. Use commonsense and keep your fingers especially small fingers! Away from all moving parts! I make no guarantees or clams as to how it will run for you or even if you would be able to get it started. Some mechanical knowledge and experience is needed to run any antique model engine like this.
I have clear photos posted showing many different angels. I have a video posted showing it running. You should have some knowledge of a engine like this, like how to maintain it, keep it lubricated and adjust it if necessary as I provide no instructions other than what is in my videos and written in this ad.
No guarantees of any kind are included with a hand made, adult hobby item like this. What you see is what you get. The 6 volt battery and the white cable from the battery to the engine is not included. If you want a more detailed photo of something or have any questions I will be more than glad to respond in a timely manor.
The engine will be wrapped up in several layers of heavy duty industrial type bubble wrap. I will then fit this into a box or surround it with cardboard before more layers of bubble wrap are added. All this should fit into a heavy duty 33x19x15inch storage type tub.
Total weight should be around 65 pounds. My packing is among the best you will find. This is gasoline powered scale model engine that comes with no instructions or guarantees what so ever!! Do not stick your finger or other body parts in a rotating mechanical assembly!! The new owner assumes all responsibilities and liabilities to himself/herself and others with this engine. This is an adult collectible item not to be operated or played with by children. I make no clams to it being safe as it is a antique scale model reproduction produced back in the day when no safety guards, air bags, safety warning labels, ect.. Were attached to dangerous products. I make no claims that it will even run as some might not have the mechanical ability to figure it out. By purchasing this item you are stating that you have read my whole ad, you understand it and that you agree with the terms and policy's stated in this ad. I have detailed photos posted. A link is in this ad that shows this engine running. Should you have any questions, please ask. The item "1/2 Scale Breisch Olds gas powered model Hit and Miss engine motor, Show Quality" is in sale since Wednesday, April 24, 2019. This item is in the category "Business & Industrial\Light Equipment & Tools\Stationary Engines\Engines". The seller is "bushvideo" and is located in Reading, Pennsylvania. This item can be shipped to United States.
Model: 1/2 scale Olds
Country/Region of Manufacture: United States
Type: Hit & Miss
MPN: Does Not Apply
Brand: Paul Breisch castings/ Bill Bush restored
Powered By: Gas