K&B. 65R/C Model 5800 Airplane Engine/Motor, New In Box, KB RC NOS, Perfect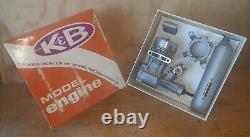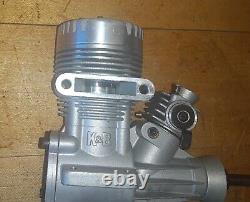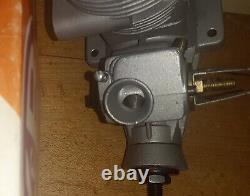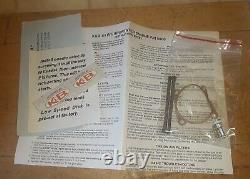 This engine is for a remote controlled model airplane motor. It is from a hobby shop that closed about 30 years ago. It has been stored in its original box in a warm, dry environment. The engine is listed as New In Box which it is. That is the original packaging, however it is only the box and lid as pictured. The box shows its age. The motor itself is in absolutely perfect new condition. The carb moves freely and engine turns over. In the plastic bag close up you can see some discoloration of the gasket. I don't know the cause, but I suspect it came from the factory.
Includes all packaging, parts, and instructions pictured. It don't think those stickers will stick at this age but they are authentic and cool. One of the sticers was bent form the packaging process. I put it flat against the bottom and I expect it will be most of the way flat when you get it.
Please note: I have a real job! Hey, they've been sitting around for decades :/ Also: Chances are you know much more about this item than I do. I have described it as accurately as I know how to. I'm relying on you to use your knowledge and the pictures to make your own assessment of the condition/value of this item.
K&B K & B KB model airplane motor/engine KB.