Sunnytech Hot Air Stirling Engine Motor Model Imagination Development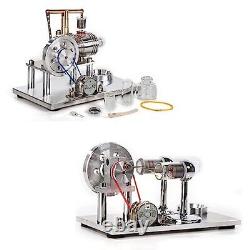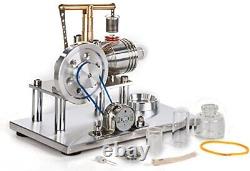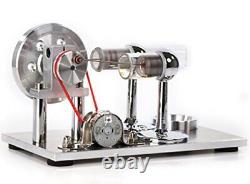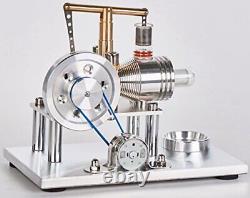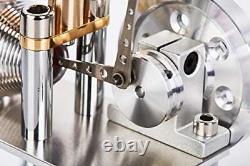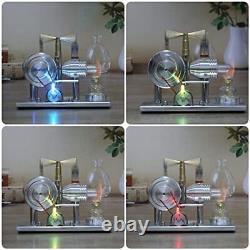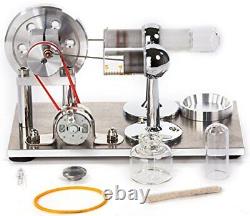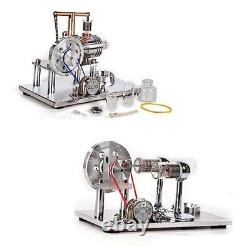 Sunnytech Hot Air Stirling Engine Motor Model Imagination Development. EXTREMLY WELL-MADE---- Heating cylinder for the custom-made thick glass material, long-term heating without pressure; It is mainly constructed by metal so it can run quietly and stably (since it is HEAVY, 1.5LB) at speed around 1700 RPM! Our customers are satisfied with the fit and finish of this engine.
All the parts have done surface treatment to avoid rusting. You will be pleased once put it on table. EASY OPERATION & LONG LASTING----Fill the alcohol burner with your 95% alcohol (we recommend this fuel) and light it. Let the light burn the round ended cylinder for about 60-120 seconds, then give the wheel a gently push, it will run like a charm. ADD MULTICOLOR LED -----The stirling engine equipped with a multicolor LED install on the motor.
Because of the heat from high-grade alcohol, the engine will run madly and create the electricity. The power will go through the wire and drive the multicolor LED lighting.
It's really interesting and imaginative toy. It did come with spare glass tubes, one O-rings, check the gallery picture. You can replace it fast and easily if any broken. We also can make offer for your future parts requirement. PRIORITY GIFT OPTION FOR MANY APPLICATIONS----It is an amazing and fantastic product at this price.
Its elegant gift package makes it spruce up and presentable. It has a wide range of application as, great gift for Kids' science project, Physical/mechanical learning, teacher's Demo props on the class, birthday gift for friends, families, parents, kids, etc. Many of our customers come from school, colleague, etc.