4 Cylinder Scale Gas Model Engine Dale Detrich designed antique motor hit miss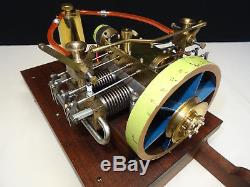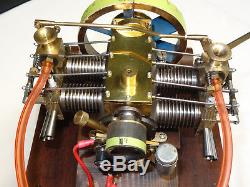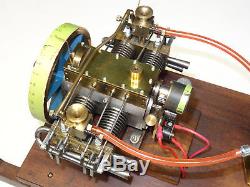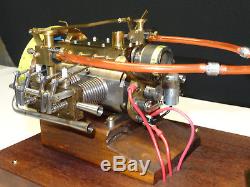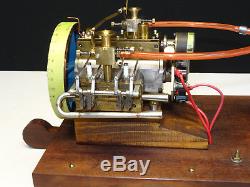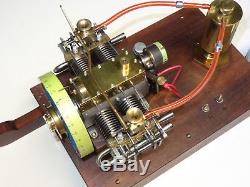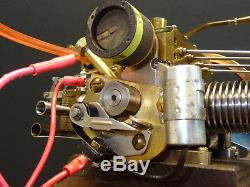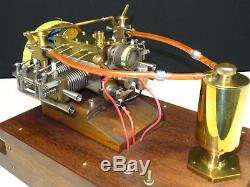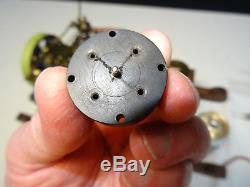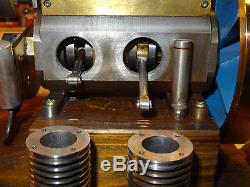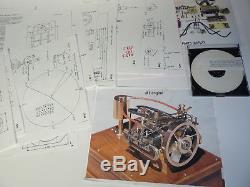 Up to this point in this engines life it has not been run. Please read my whole ad and watch the video so you know everything that I know about this mechanical piece of art. Most every part was hand machined from bar stock (not a casting kit) using 64 pages of detailed drawings and building information. I can only imagine how long it took someone to machine all of the parts needed to build this engine. A true piece of mechanical craftsmanship! Please read my whole ad and see the video I made that describes in detail what work I did on this engine. About me; At 60 years old I have worked as a auto mechanic then worked professionally for 35 plus years as a jeweler. I have a vast mechanical background and consider myself a notch above someone who does casual hobby type machine work. A machinist want to be.. I now build and restore running model Hit and Miss engines and have a lot of full scale and small scale engine building experience.
Just saying this so you know that this info is coming from someone who has a lot of engine knowledge. I don't know everything, no one does, but I have a good seance of what is what when it comes to mechanics. My better half says I could make a piece of wood run!
The Designer of this engine; This engine was designed by Dale Detrich out of Attica Ohio. He has a site on the net named Dale's Plugs and Plans He now manufactures and sells miniature spark plugs and still sells the plans for this 4 cylinder. This sale does include his CD that is packed with a ton of photos showing all of the different machining and assembly steps. There is also a PDF file on the CD and that is where the 60 plus pages of plans and assembly instructions are.
I did print all that stuff out and that will be included along with the photo CD. I did message Dale when I first started working on this engine and he responded quickly to my questions. I will describe below what I asked him. Here is some info on the engine that Dale has on his site. This 4 Cylinder Horizontally Opposed Engine 4 stroke 5/8 bore, 5/8ths stroke, splash oiled, full 12v ignition, fan wheel cooled engine plans plans.
This amazing engine has been featured in Home Shop Machinist, and on the Florida Association of Model Engineers homepage! The videos I made; I made 5 different videos on my progress with this engine (when I got the chance to work on it) over the of about 5 years. I edited those videos together and posted it on YouTube along with my many Hit and Miss engine and Bernina sewing machine videos as I work on/service those machines and sell them. My YouTube user name is JoeKind1958. Just a web search using the video title might also bring up this video. Dale Detrich designed, scratch built 4 cyl. My story about this engine. But it seemed to have pistons in it but it had no compression? At least it turned over smoothly by hand. After talking to the designer, Dale Detrich I did not learn anything about from him either. It was dusty but not dirty like it had been run. No signs of fuel ever being in the tank. Parts did have some oil on them from assembly so nothing was rusty.
Whoever did the machine work did a fantastic job. They knew what they were doing. Possibly a retired machinist as it took much more than just a casual hobbyist to produce this kind of work from bar stock. I started out by first inspecting it then completely taking it apart.
I do have some photos of it completely apart. I will try and find them and post a couple in this ad. As I suspected it was most likely loosely put together most likely just for display. Someone attempted to make one connecting rod and they put in rather heavy steel pistons that have no ring groves on them and that accounts for it not having any compression. My guess is that these pistons were made by the original owner as some sort of tool used in making the cylinders or???
In chatting with Dale Detrich, the designer, he had no idea why someone would put heavy steel pistons in a engine like this. Not only was there no compression. The weight of the pistons would of caused a massive out of balance situation. So there must have been another use for these. As for the one poorly made connecting rod. My guess is that one was missing and the last owner attempted to make one and then chose to put in the steel pistons when it was loosely assembled as I did get a numbered set of aluminum pistons that I did make a ring set for as I talk about in the video.
I also made a matching connecting rod that came out great! The second from the last photo shows the connecting rod that I made. Its the rod on the right.
All the other parts other than that one rod, all appeared to be made by someone with a lot of experience. The crank looks great and fits perfectly. The valve and ignition timing was not even considered by the person who loosely assembled this engine. The cylinder jugs are numbered and need to be installed to the corresponding numbers stamped on the block. This is so they are all at the correct height and that the tapped bolt holes for the cylinder heads line up.
The aluminum pistons are also numbered on the top so they go in the correct cylinder. These cylinder jugs were just loose and not put in their correct place and that is why I say it was loosely assembled.
I will sum this all up by saying that it is now assembled the way it should be. I did put the brass cover on over the cam & lifters without putting any sealant that cover. The plans show the brass heads going on without any gaskets. I put a slight trace of brush on gasket sealer around the top of the cylinder jugs. Lock-tight was put where it was needed and I did have oil in the crankcase when I lapped in the piston rings and then attempted to start it.
I almost had it running on its own a few times. In the end I did find the problem was arcing on the top of the distributor cap as I show in the video.
I did try spinning it over with 6 volts going to the coil rather than 12 hoping that the spark from the automotive coil that is mounted on the bottom of the display box, would lessen a bit and the arcing would stop. But that did not help. Next I was going to try a resister before moving on to making a new cap but that's where I stopped.
I normally do not give up on a project but I had other engine projects that were a higher priority and this one just ended up sitting on the shelf. As you will see in the video, two years have passed from the last time I said I was going to sell this. Feel free to ask any questions you might have and I will respond as soon as I can. Should you have any questions or you would like to see some detailed photos of something not shown please let me know and I will do what I can to help. Package details: The container size is 27x18x13 inches and will weigh a estimated 26lbs.
The plastic wont rip open like cardboard can and will absorb hits even when exposed to freezing temperatures. The engine will be wrapped up in several layers of heavy duty industrial type bubble wrap.
I pretty much wrap the engine up till its like a large bubble wrapped football. At that point it could actually be dropped on the floor and nothing would be damaged. It then goes in the container with even more of the wrap packed around it till the container is full and packed tight.
The container lid is then held on with a lit of zip ties. By purchasing this item you are stating that you have read my whole ad, you understand it and that you agree with the terms and policy's stated in this ad. Should you have any questions, please ask. The item "4 Cylinder Scale Gas Model Engine Dale Detrich designed antique motor hit miss" is in sale since Wednesday, November 28, 2018. This item is in the category "Toys & Hobbies\Models & Kits\Tools, Supplies & Engines".
The seller is "bushvideo" and is located in Reading, Pennsylvania. This item can be shipped to United States.
Brand: Unbranded
Scale: 1/4 scale ?
Year: unknown
Country/Region of Manufacture: United States
California Prop 65 Warning: Do not swallow this engine as choking will result!